With the phase 3 of the project well underway it is hard to believe how fast our project is coming to an end. Seven weeks have passed since the beginning of the project and we have collected just over 2 million photos from Vancouver's green spaces, commercial properties, industrial sites and residential areas. We are currently sorting through these photos and trying to distinguish individual cats from one another. Luckily, this is proving to be easier than initially expected due to the significant variation that exists within Vancouver's pet cat population. Nearly all the cats we have photographed thus far have had clearly distinguishable markings or features. In many cases, the cats in question have name tags or a collar that increases our ability to distinguish between individuals. While we have been focusing primarily on outdoor cats, we have been getting hundreds of other urban wildlife photos. 
Since our last update we have been working hard to secure the final few sites needed for the last 3 weeks of monitoring. This brings our total number of sites up to 136 across the city. Many of the sites in the study were included due to the willing residents of Vancouver's low-income communities. It has been such a privilege to be able to collaborate with different communities to achieve our monitoring goals.  However, conducting urban wildlife studies is not without risk. While the first 3 weeks of the project went relatively smoothly, this second phase saw a significant increase in vandalism. During our first phase we had 1 camera vandalized and one stolen. This jumped up to 6 vandalized cameras by the end of phase 2. Most of the vandalism that occurs is to the sensors at the front of the camera. This is one of the only parts of the camera that is exposed while it is within the lock box. On two rarer occasions the camera lock boxes themselves were significantly damaged. We believe this occurs when an individual notices the camera after or during some sort of illegal activity or transaction. We are working closely with local authorities to hopefully reduce the likelihood of these incidents reoccurring. 
| | |
| --- | --- |
| | |
We only have 5 weeks left of monitoring before we start data analysis however, we have been witnessing some exciting initial results. Namely, our sites within the lowest median household income residential areas are presenting the highest abundance of individual cats. This is followed closely by urban green spaces, which seem to invite large numbers of outdoor pet cats.  While these findings are only preliminary, they suggest we are on track to achieving our goals for this project. Which are, 
Estimate the number of free-roaming cats in Vancouver
Determine which areas of the City of Vancouver have the most cats or are predicted to have the most cats (i.e., identify hotspots and low spots). 
Identify how the number of cats differs between different landuse areas (e.g. residential (of different densities), commercial, industrial, educational, and parkland).
Test methodology for counting cats in an urban area. 
About the Authors 
Jaylen Bastos - SCBC; University of British Columbia; City of Vancouver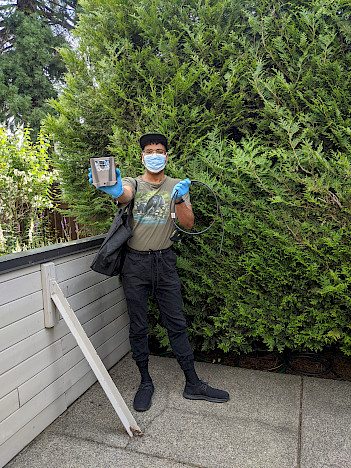 Jaylen Bastos is a Queer Black and Latinx scientist whose work centers around urban conservation, animal behavior and human-wildlife coexistence. He Is a graduate of the University of British Columbia's Natural Resource Conservation Undergraduate program with a specialization in science and management. Currently, Jaylen is serving as one of the principal investigators for SCBC's Vancouver Cat Count camera trap project. In addition to the Vancouver Cat Count, Jaylen is currently working towards his Masters, and will be using his Vancouver camera trap network to answer questions about urban animal behavior, cognition and coexistence strategies.
Elizabeth Gow - Stewardship Centre for British Columbia; Nature Canada; Birds Canada
Elizabeth Gow is a Liber Ero Postdoctoral Fellow in the Department of Integrative Biology at the University of Guelph, where she studies the impacts of domestic cats on birds and other wildlife. Elizabeth uses trail camera surveys to find out where domestic cats are found and to count cats in British Columbia, Ontario, and Quebec.