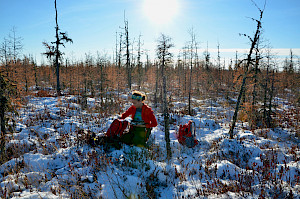 Joanna is a Wildlife Biologist for the Ministry of Forests, Lands, Natural Resources, Operations, and Rural Development, South Coast Region. Joanna has designed camera trap studies in both British Columbia and Alberta and has used camera trap data to estimate the densities of medium and large sized mammals in remote and urban environments. Joanna is particularly interested in using camera traps to determine the influence of disturbance, both anthropogenic and natural, on wildlife populations. She is a current member of the WildCAM steering committee.
Affiliations: FLNRORD
Species Studied: All; Caribou; Moose; All; White-Tailed Deer; Black Bear; Canada Lynx; Caribou; Fisher; Grey Wolf; Moose; Coastal Black-Tailed Deer; Elk
Projects
58 cameras were deployed in the Richardson backcountry area of northeastern Alberta to measure ungulate (moose, white-tailed deer, and woodland caribou) responses to wildlife, seismic lines, and other anthropogenic activity. Specifically,...