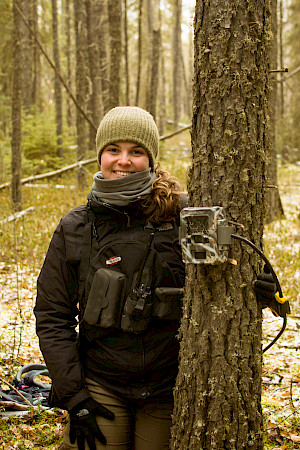 Katie Baillie-David is an MSc student in the School of Environmental Studies at the University of Victoria, where she is a member of the Applied Conservation Macroecology (ACME) Lab. Katie is using a wildlife camera array in northeast Alberta to investigate the impacts of wolf removal on carnivore community resource selection in an oil and gas landscape. Katie uses wildlife cameras more broadly to answer ecological questions related to wildlife management and landscape change.
Affiliations: University of Victoria
Species Studied: Black Bear; Canada Lynx; Caribou; Coyote; Grey Wolf; Moose; Red Fox; White-Tailed Deer
Projects
60 wildlife cameras were deployed at the intersection of the Cold Lake and ESAR caribou ranges near Conklin, Alberta to survey medium- to large-bodied mammals. In the winter of 2016, wolf removal began in the area to conserve these two...