Cassie Stevenson here! In late June, I joined Dr. Erin Bayne's lab (University of Alberta) and the ABMI as the Wildlife Camera Coordinator. Over the next year or more, I'll work with the Bayne lab, the ABMI, and the Alberta Remote Camera Steering Committee (RCSC) to improve coordination among remote camera users in Alberta and BC. How are we doing this, you ask? Well, there are a lot of really great things in the works, and I am excited to tell you all about them! But before I do, I'd like to tell you how I got here.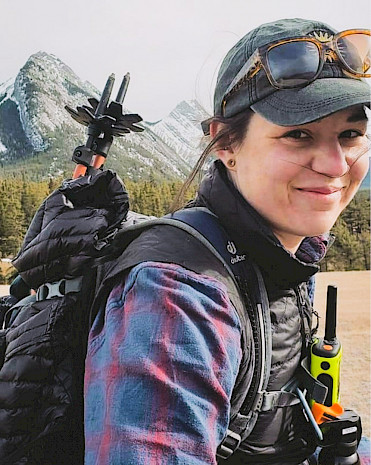 About 10 years ago, I resigned from Emergency Medical Services (EMS) to study Environmental and Conservation Science. When my BSc was nearly complete, I was offered the opportunity to complete a master's with Dr. Colleen St. Clair (Professor of Biological Sciences, University of Alberta). The project was a collaborative urban wildlife monitoring program with the City of Edmonton (Catherine Shier, Principle Ecological Planner) focused on surveying urban mammals throughout Edmonton and the city periphery via remote cameras; this became WildEdmonton.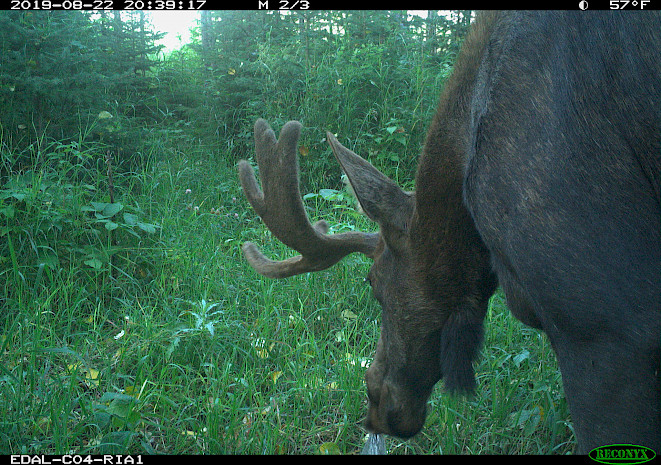 WildEdmonton Project
I was told we would additionally collaborate with the Urban Wildlife Information Network (UWIN). UWIN uses a standardized study design to support multi-city analyses. Over the next three years (May 2018 - Sep. 2021), we deployed 112 remote cameras that collected a whopping 1.6 million images. Since the study design was standardized, we were also able to contribute data to 11 multi-city urban wildlife studies (and counting). How amazing is that! I defended my thesis in June (titled: "Using wildlife occurrence data to test permeability estimates and ecological indices used in urban planning") and am preparing two manuscripts for submission to peer-reviewed journals.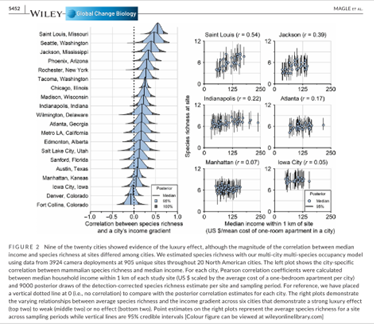 Magle et al. (2021) Wealth and Urbanization Shape Medium and Large Terrestrial Mammal Communities, Global Change Biology, 27(2): 5446-5459
If you're still with me, you may be thinking, "why aren't more collaborations occurring in Alberta?" Well, at least some of you are because lack of optimal study designs and standardized protocols were among the top priorities in the 2020 survey sent to the Alberta Remote Camera Community of Practice (CoP). This is partly owing to the lack of coordination among camera users in study design, camera settings, and methods of processing and analysis, despite the thousands of remote cameras in Alberta. As well, the variety of methods used tends to give the impression that datasets aren't comparable, and even if they are (which is more likely than you may think), there is no set guideline for data reporting that would allow for data from multiple sources to be easily integrated.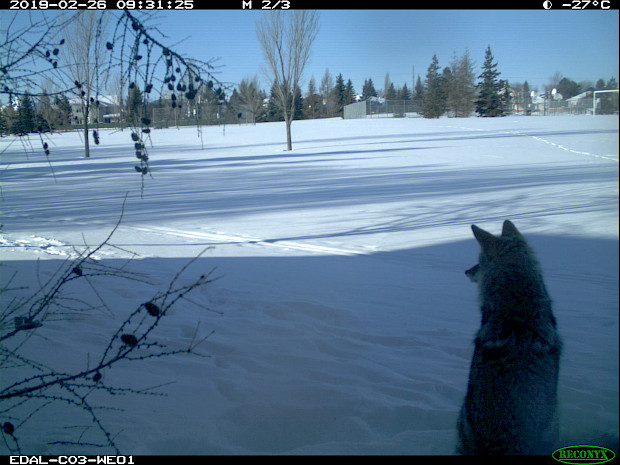 WildEdmonton Project
The Alberta RCSC and WildCAM were listening, and they've been working hard to establish standardized data collection methods, protocols, and reporting and to provide resources, webinars, and a flexible data repository that everyone can use. If that seems like a lot of work, that is because it IS a lot of work! So, I was hired as a Wildlife Camera Coordinator to help keep things moving, including the products desired by the Alberta Remote Camera CoP
Over the next year, I will coordinate the Alberta RCSC and help to complete the Alberta Metadata Standards (a standardized data reporting method) and the Alberta Wildlife Remote Camera Protocols (guidance on study design, field deployments, and analytical approaches). You may have already seen the spoiler in the newsletter, but The Alberta Remote Camera Metadata Standard (2022) was recently published! The Alberta Wildlife Remote Camera Protocol is nearly complete and will soon be coming to an update near you. I'll also work with ABMI to create a webpage for the Alberta RCSC and CoP to house shared information and a GitHub page for shared scripts.
WildEdmonton Project
But that's not all; many camera users in Alberta had also hoped for a more flexible and central database that managed data amalgamation issues. Well, the Alberta CoP asked, and the WildTrax team answered. Have you checked out WildTrax lately? The team has been working hard to bring on many new features at your request. If you missed the memo, even the previously released features could save you a lot of time (e.g., the ability to blur human faces and the integration of the MegaDetector). It's time to get on board! I am also here to help remote camera users do just that, from helping set up a project, walking through the processing steps, and troubleshooting upload issues, you name it. Please don't hesitate to contact me if you're ready to join WildTrax; I'd be happy to help you!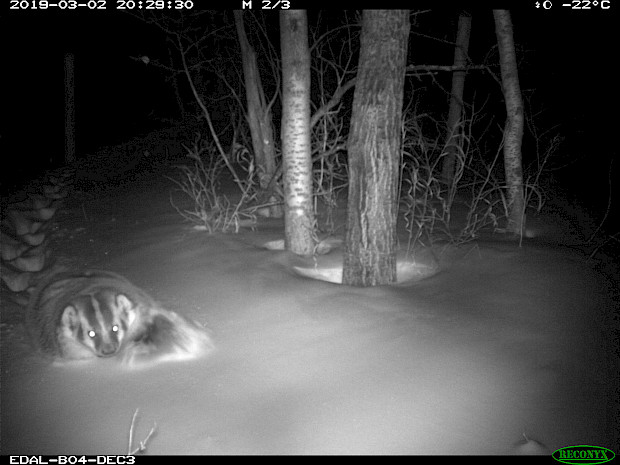 WildEdmonton Project
Overall, it will be a busy year for this Wildlife Camera Coordinator, but I am excited to be involved in initiatives that aim to advance science and collaboration! Thanks for tuning in, and I hope to meet more of the remote camera-trapping community soon!
Written by Cassondra Steveson, Wildlife Camera Coordinator, Dr. Erin Bayne's lab (University of Alberta) / the ABMI (cjsteven@ualberta.ca).
This position was funded by the Alberta Conservation Association (ACA) and Office of the Chief Scientist (AEPA). This position was provided in-kind support by the Alberta Remote Camera Steering Committee (RCSC), Wildlife Cameras for Adaptive Management (WildCAM) Advisory Committee, Alberta Environment and Protection Areas (AEPA), Alberta Biodiversity Monitoring Institute (ABMI) and University of Alberta Faculty of Science.