Guest post by Joanna Burgar, Ministry of Water, Land and Resource Stewardship
What do kittens, ninjas, sly tricksters, and warriors have in common? Why, they are all mesocarnivores, of course! Storytellers delight in borrowing, and possibly embellishing, characteristics of these small and typically elusive carnivores to endow them with mythic proportions.
The fearless yet deceptively angelic marten, with a love of strawberry jam, will attack any finger lingering too close to its mouth when that person attempts to free it from a live trap. Agile fishers nimbly maneuver through forests, deftly attacking and taking down prey, some of which may be larger than they are.

Female fisher leaving her den, presumably to find food for her two kits born in early April in the Dry Forest near Lac la Hache
The conniving and ferocious wolverine endures extreme weather and difficult conditions to persist where other species would perish. The courageous badger is a symbol of strength, wisdom, and hospitality — rising to the heights of pop culture fame when emblazoned on the Hogwarts "House of Hufflepuff" crest.

Badger following in the footsteps of a coyote
These seemingly magical creatures are also crucial contributors to the health of ecosystems in which they occur. British Columbia is home to 18 terrestrial mesocarnivore species and five of them are at risk of being lost (extirpated, endangered, or threatened): American badger; fisher (Columbian population); Haida ermine; long-tailed weasel (altifrontalis subspecies); and wolverine (vancouverensis subspecies).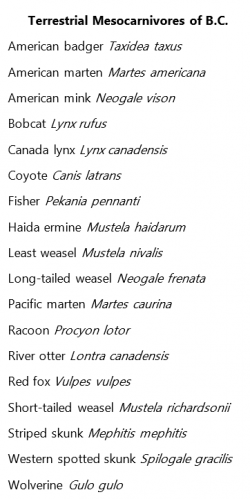 There is currently little information available regarding the size, distribution, and trends of mesocarnivore populations, or even their basic ecological relationships. The ability of ecosystems to support them has likely declined due to habitat change, yet the scarcity of mesocarnivore detection data makes it challenging to confirm whether current management decisions are conserving or hindering their populations.
One goal of the B.C. Ministry of Water, Land and Resource Stewardship's mesocarnivore monitoring program is to collect and collate mesocarnivore detection data along with other wildlife and habitat data. It is looking to collate existing camera trap detection data to validate species and habitat models and inform decision-making for fisher, and other mesocarnivore, conservation and recovery.
The ministry also aims to fill knowledge gaps by collaborating with Indigenous partners. The mesocarnivore monitoring program is coordinating and supporting implementation of camera trap monitoring surveys within the traditional territories of Indigenous partners. It is developing surveys to maximize detection of mesocarnivores (i.e., using scent lure and camera station location selection at the macro scale), while also meeting the survey goals and objectives of each partner (i.e., placement of cameras at the micro scale). The intent is to provide indigenous Land Guardians or communities with the capacity, equipment, and training to monitor biodiversity within their traditional territories, and also provide data processing and data management training.
This program is expected to result in a better understanding of mesocarnivores and their habitats, increased sharing of knowledge between the government and its Indigenous partners, and more information about the mammals in these areas (i.e., species that are important for food security, as well as at-risk species), including their distribution and use of habitat within First Nations' traditional lands.

The beauty of camera traps: detecting multiple species during a species-focused wolverine study
Mesocarnivores are majestic, enigmatic animals that have inspired storytellers for generations. We need the help of the WildCAM community to ensure we can tell the ecological stories of these forest ninjas and grassland warriors. If you have mesocarnivore detection data that you can share, please reach out to joanna.burgar@gov.bc.ca to discuss options for collaboration.
Sandra Frey, carnivore conservation biologist with MWLRS, expertly applying a scent lure (think skunk with a hint of licorice) to a tree in a camera trap's field of view