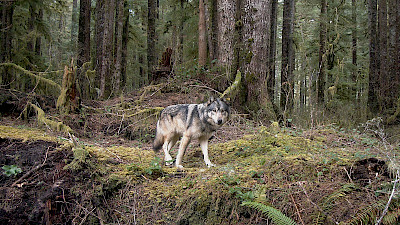 I had a surprise visitor show up at one of my game cameras which I had set out along an active wildlife trail. The location was 2 hours north of Victoria on the outer west coast of Vancouver Island. I've been studying the resident Wolf pack in the area for the past 5 years and I knew instantly that this individual was not one of them. I recognized him as being none other than the Wolf commonly referred to as Takaya. The lone Wolf of Discovery Island. The B.C. conservation officers relocated him into the wild at an undisclosed location on the west coast of Vancouver Island. It just so happens that the BC. government biologist that decided where the conservation officers should release him. Happened to choose an area where I was studying Wolves. On my return back home with this news. I decided to phone the BC conservation office, left my number and waited.
I received a call a short time later from a Mr. Robin Sano, a conservation officer from the Duncan office. I explained what I had, the time it happened, the general location and then I sent him another picture of him as proof. He confirmed that it was indeed the Wolf commonly known as Takaya and thanked me for reporting this to them. He said that this is the first confirmation that they had of him since his release a month earlier. I told him what I was studying the Wolves in that area and assured him that this Wolf is now in the territory of the resident Wolf pack. In fact one of those Wolves was in the same area as him at the time the picture was taken. I assured him that I would not disclose it's location and that I would not post any pictures of him online. I strongly felt that any news of him or his whereabouts would be detrimental to it's very well being. Robin agreed and thanked me, he assured me that the information that I disclosed would not be made public as well.
Sadly, a little over three weeks later, this Wolf was shot and killed 50 km east of this location on the opposite side of Vancouver Island. I've kept my word about not posting his picture nor disclosing his location, and for that I feel good. Now that he has passed, perhaps now is a good time to share with our members a picture of this beautiful Wolf. The camera caught a picture of him pausing momentarily as he looked at my camera. The location was along a remote game trail in a coastal temperate rain forest that paralleled the San Juan River. A trail that the local Wolf pack traveled frequently throughout the Winter months. I have solstice in knowing that he spent the last few weeks of his life back in the land of his own kind and away from the onslaught of harassment by humans. In an environment more befitting of where Wolves naturally live. 
Once you understand the known history of that Wolf. You will understand that he was extremely habituated. It was through that habituation I feel that ultimately led to his death. He no longer feared humans and felt no need to hide from them. That I believe is what sealed his fate. I want to use this image in my future public presentations as a reminder to all. The message here is clear that habituation of wildlife, no matter how well intended it may be, often leads to dire consequences for that animal. 

This article from the Georgia Straight will help shed some light on who this particular Wolf was.
This image was captured by one of my home made game cameras a few weeks back.