Hello everyone, my name is Douglas Mitchell Jr from Xaxli'p. We at Statimc Eco Resources are part of an amazing camera trapping program that started last fall. We partnered up with the WildCAM program of BC Parks Foundation and the Xa'xtsa Nation to start a camera trap program gathering data on forest carnivores and other wildlife that are residing in the southern part of our St'at'imc territory.  
We have an amazing team that consisting of myself and Christina Shaw from Statimc Eco Resources, along with four crew members - Jake Pete, Lloyd M, Cooper L, and Thomas P, from the Xa'xtsa Nation.  And a shout out to Statimc Eco Resources field biologist Kyle Krahn for facilitating this amazing opportunity and expanding our scope of works in our territory.
We have deployed 11 game cameras throughout the southern territory.  We wanted to have camera stations across a variety of ecosystem types, from low elevations along creeks and rivers in Western Red Cedar and Western Hemlock forests, including previously logged Douglas fir and Lodge pole pine forests, to up in the sub alpine areas and Montane Spruce, Balsam, Lodge pole pine forests up in the Duffy Lake corridor. 
The plan was to place cameras in certain watersheds. We used Google Earth to look determine those areas we wanted to deploy within and to also assess access. Depending on access we would get as close to survey points, as these spots were approximate locations, and then fanned out in search of the perfect spot to place the camera.  The ideal camera sites are in somewhat open areas to have good visibility 20-40meters with notable game activity so we were looking for well used game trails and dens that animals would be using.    
A game trail camera and scent box were placed on trees approximately 1.5-2.5 meters high and are 5-8 meters as we are trying to lure in carnivores such as wolverines, weasels, lynx, cougar, fisher, grizzly and black bears.  We aimed the cameras to the north as to eliminate glare from the sun.  The scent boxes were set to dispense a smelly substance to entice carnivores; 3ml is sprayed every two days.  Cameras were set to both motion triggered and timelapse functions taking an image at noon everyday.
We returned to replace SD memory cards and batteries in the cameras and scent dispensers that were this spring but the flooding and washouts from last November's atmospheric river prevented us from accessing a couple of the cameras and snow packs were too deep for others.  We were able to retrieve four memory cards from lower elevation sites and we are excited to say that we did catch at least one specimen at each of the cameras and multiple animals at others. We captured grizzly and black bears, cougars, lynx, bobcat, coyote, and deer on those cameras we were able to check.  Earlier this summer we were able to deploy two more cameras with scent boxes. At this time, we have thirteen sites deployed and will be active until autumn when we will go out again to collect memory cards and replace batteries again where accessible.  The sites will be active until the following spring / summer and hopefully funding opportunities will continue so that we can expand our project to the rest of the territory.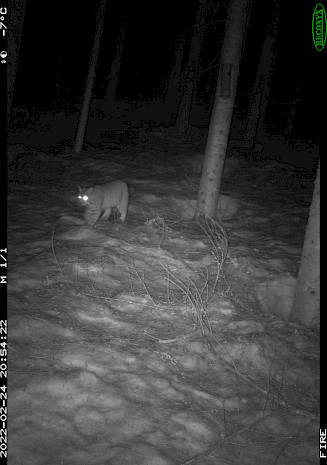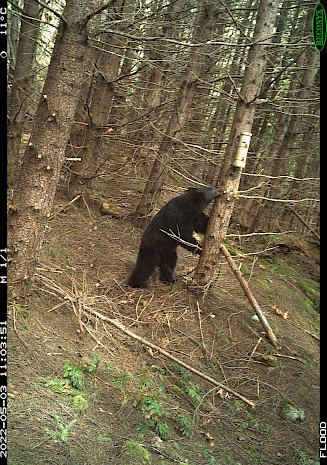 With the help of WildCAM we are now in the process of going through the image data, taking note of species ID, date, time, temperatures, and using height of scent box can estimate size of specimen in pictures and snow levels in the area.